Howard J Moorey, Hojomo Group
My Real-Time Strategies for Business revolve around
Media, Mobile, Maps and Motors, i.e. "Social Communications"

http://www.gsma.com/connectedliving/connected-living-at-mobile-world-congress-2016/
THERE IS ABSOLUTELY NO QUESTION THAT MANKIND WANTS MOBILE COMMUNICATIONS
Connecting Anyone to Anyone, Anywhere to Anywhere, Anytime…..
I've been on a #MissionConnected for several years now – pushing my passions for innovation, communication, automotive & mobile security at every opportunity, under #MobileMatters, #SecurityMatters, and #ConnectedCars, but it is under the third there that they are all starting to come together.
One of the principal instigators of this shift is HARMAN International – I was particularly drawn to their 5+1 Security Framework, so when the chance to be involved in their efforts surrounding #MWC16 came along, I grabbed it with both hands! Here's the resulting infopaper: #ConnectedLife
#IVI – In-Vehicular Innovation – what's happening in the car, and what's going to be productive/time or cost saving?
Where phones had the last 10 years, cars have the next 10…..
True innovation has surrounded the development of the mobile phone, including new technology and new services that didn't previously exist.
This same revolution is now coming to the automobile, not just for entertainment, but for communication, safety, security, and better performance too.
HARMAN have just announced this week in Barcelona the great strides they are making in opening up a whole new ecosystem, which will most likely not look the same in 5 years time, let alone 10
#ConnectedCars are a preview of something much bigger than just the car – "always on", to play a major role in this growing ecosystem of connected devices…..
http://uk.businessinsider.com/connected-car-technology-and-self-driving-cars-2016-2
Times they are a-shrinking…..
The pace of innovation in mobile is slowing down.
They have become slabs, with apps, pedalling a FOMO (Fear Of Missing Out), but we love them!
Phones grew, and "phablets" appeared, at anything between 5.5 and 8 inches…..
HP's new Elite x3 is a big, Win10 Phone/PC substitute in one.
Now the novelty is that they are getting smaller again…..
Apple is releasing an iPhone 5SE,
Samsung Galaxy 7 is smaller than the 7Edge,
and others are going back towards a 4 – 4.6 inch screen, because "one-handed operation" has become a priority for some.
So does that mean the bigger beast, 5.7 & 6 inchers and beyond, had their day? (There's a lot of them out there!) Time will tell.
The Wheel Difference…..
The beauty of a car is that, no matter what size it is, there's still room to grow the mobile offer – phone, infotainment, hifi, wifi – all on the move, just like us.
We know, and love, our mobiles, so we don't want to have to re-learn a "new" way for the car, we want the experience to move seamlessly with us – from the home to the street, to the office, to the meeting, to the gym, to the bar, back to the home.
Where our car is our transport, and maybe even our office, our needs are the same, and they already include the latest craze for VR/AR at #MWC16 in the form of the heads-up display.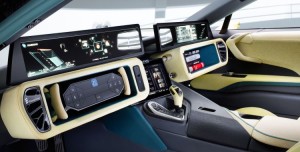 The Consumer Electronics Show in Las Vegas last month gave us a very good view of the direction the humble dashboard may be going – HARMAN showed off their "Life-enhancing Intelligent Vehicle Solution", because we have to bridge the gap between now and the future, and some semblance of familiarity must remain. Interesting that they did not show the central steering column, which would finally allow all cars to be made the same across the world, and then just modified for the local market.
The challenge is for businesses, of all sizes, to seize the opportunity, and insert themselves into the game, at some point where they feel comfortable; but be aware, Disrupters may well take the uncomfortable route!
"#MissionConnected: YOU-Home-Phone-Watch-Car-Dealer-YourBusiness – because you will lose business if you don't spot  the evolution & join" 
Comment on social @hojomo – Hojomo Group Facebook Page – Google+ – LinkedIn
Let's get the convo going! #SoConvos
Brought to you by HARMAN's Engineering a Connected Life program. The views and opinions expressed in this post are my own and don't necessarily represent HARMAN's positions, strategies or opinions.